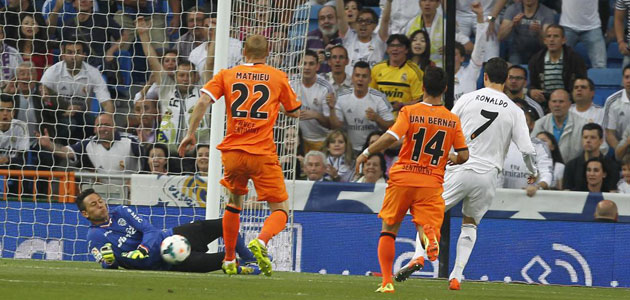 Real Madrid's hopes of winning 'La Liga' were dashed after being held to a draw by Valencia, for whom two players were instrumental: former Real player Dani Parejo and goalkeeper Diego Alves.
The Brazilian keeper stopped everything he could, even some impossible shots but he couldn't prevent Real Madrid - who struggled to go through the gears following their display of power against Bayern - equalising twice, the second in injury time.
The Brazilian full-back, Marcelo, denied that the "hangover" from the match against Bayern was the reason they dropped two points on home turf. "We gave it everything we had on the pitch," he said after the match.
In any case, no one expected this result, which is also unusual from a stats angle as it is Real Madrid's first home draw this campaign. The last time they drew at home was last season against Espanyol, way back in December 2012.
Meanwhile
Atlético de Madrid still hold the initiative in the fight for the league title in spite of a somewhat listless 2-0 defeat at Levante. Real Madrid's 2-2 home draw with Valencia has made their task a bit easier, though it does slightly improve Barcelona's chances too.
One day after Barcelona were unexpectedly held to a 2-2 stalemate by Getafe at the Camp Nou, both Valencia clubs sprang surprises, Levante beating Atlético 2-0 and Valencia grabbing a 2-2 draw at the Bernabéu. It was one of the oddest Sundays for quite some time, and calculations were rife.
The result is that Atlético de Madrid are four points off being crowned champions. They are at home to Málaga next week, and then end the season away to Barcelona.
Let wait and see if the tittle will go to the wire....